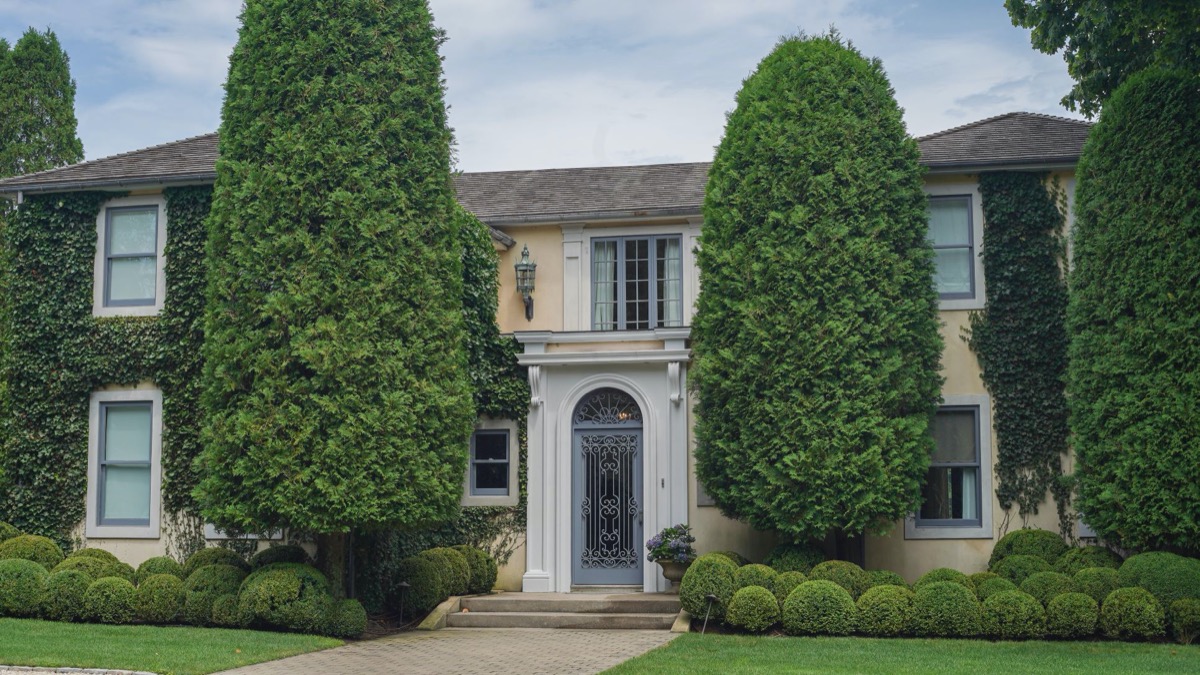 Visit of the house in the great past
This waterfront property in Water Mill will be part of the Southampton History Museum house tour on Saturday.
The summer peak season of 2022 was a return to normal, then to some, as pent-up demand for events lost to Covid led to an explosion of parties, receptions, benefits and other gatherings. The shoulder season is no exception, with the full return of events like film festivals and now the Southampton History Museum's annual Insider's View: Southampton House Tour.
Scheduled for Saturday, the tour will feature four private residences as well as the 19th-century St. Andrew's Dune Church and the museum's 17th-century Halsey House.
Although the museum's name has a history, visiting it offers a mix of historic properties and new and updated structures. The Cocoon House is a modern, LEED-certified building with an unusual rounded shape. It sits on a property subdivided from a larger adjoining estate designed by Stanford White. It looks current, but the building with its curved shape seems to nod to ideas of futuristic structures from the mid-20th century. It also plays with the local vernacular with its cedar shingle exterior.
Its eco-friendly features include thicker walls to the north and west to retain winter heat and open sides to the east and south to attract sea breezes in the summer. The property also offers a reflecting pool and secluded gardens.
The Captain George White House retains its original character and that of Main Street Southampton after refurbishment of its interior and faithful restoration of its exterior. Its most famous occupant was a whaler and public beach access advocate. Built in 1750, the original residence was extended in the 1850s during White's lifetime (1819 to 1893).
In its current form, it has four levels, including a finished basement, with seven bedrooms, eight bathrooms, multiple living and family areas, a formal dining room, and a two-story chef's kitchen. There is also a pool house and a separate garage on the property, which is in the town center but protected by hedges. The renovation used as much of the structure's original materials as possible with salvaged beams and decorative elements. Upstairs bedrooms have views generally consistent with what White saw in his day, the museum pointed out.
At Cape Cobb, one of Water Mill's private and exclusive neighborhoods comes to light. The familiar cape design has been extended in this example to a two-story structure more in keeping with the "cottages" of the early summer settlement of the South Fork. The home stays true to the style's cedar shingle exterior and steep roofline, adding dormers to provide more space. The owners recently updated the interior with "a light, whimsical style," according to the museum. The lawn of the property faces east, decorated with boxwood, climbing roses and hydrangeas.
Villa Vintage sits on 2.5 acres overlooking Burnett Creek at Water Mill and was inspired by grand Tuscan estates in Italy. Built in the 1920s, its stucco exterior has climbing ivy and a sand color accented by its bluish gray windows and door. The formal gardens feature terraces that lead to the water and rooms that include a garden with an enclosed pool.
The museum said the property retains the style of the heyday in which it was built, but was brought into contemporary times by "rearranging the landscape and redecorating the interior, which includes a spacious living room, a veranda, a modern kitchen, a library and dining room." There is a patio and a covered pergola, a pool house, a guest house and a garage on the property in addition to the main house.
Public properties, Halsey House and St. Andrew's Dune Church, will be open during visiting hours. Halsey House was built in 1683 on property that Thomas Halsey Jr. inherited from his father, who was one of the founders of Southampton. Originally facing south, its setting was moved to face Main Street by Isaac Halsey around 1720 to 1740. Other families with names familiar to the South Fork, such as Raynor, Pelletreau, White and Biddle, were later owners. The organization that became the museum purchased the property in 1958 and restored it.
At one end of Lake Agawam, the church began its existence as a lifesaving station. It was acquired and donated as a church in 1879, and its rustic interior is embellished with 11 Tiffany windows. In the 1938 hurricane it was nearly destroyed and has since been restored and moved twice to its property. The church is non-denominational, but its summer services are conducted by the Episcopal Church.
The self-guided tour will run from 1 to 4 p.m., with a champagne reception hosted by Sant'Ambroeus at the museum's Rogers Mansion from 4:30 to 6 p.m. Tickets, which benefit from the museum's education and maintenance programs, are $150 in advance on museums website and $175 on the day of the visit. Tickets are also sold by phone at 631-283-2494.