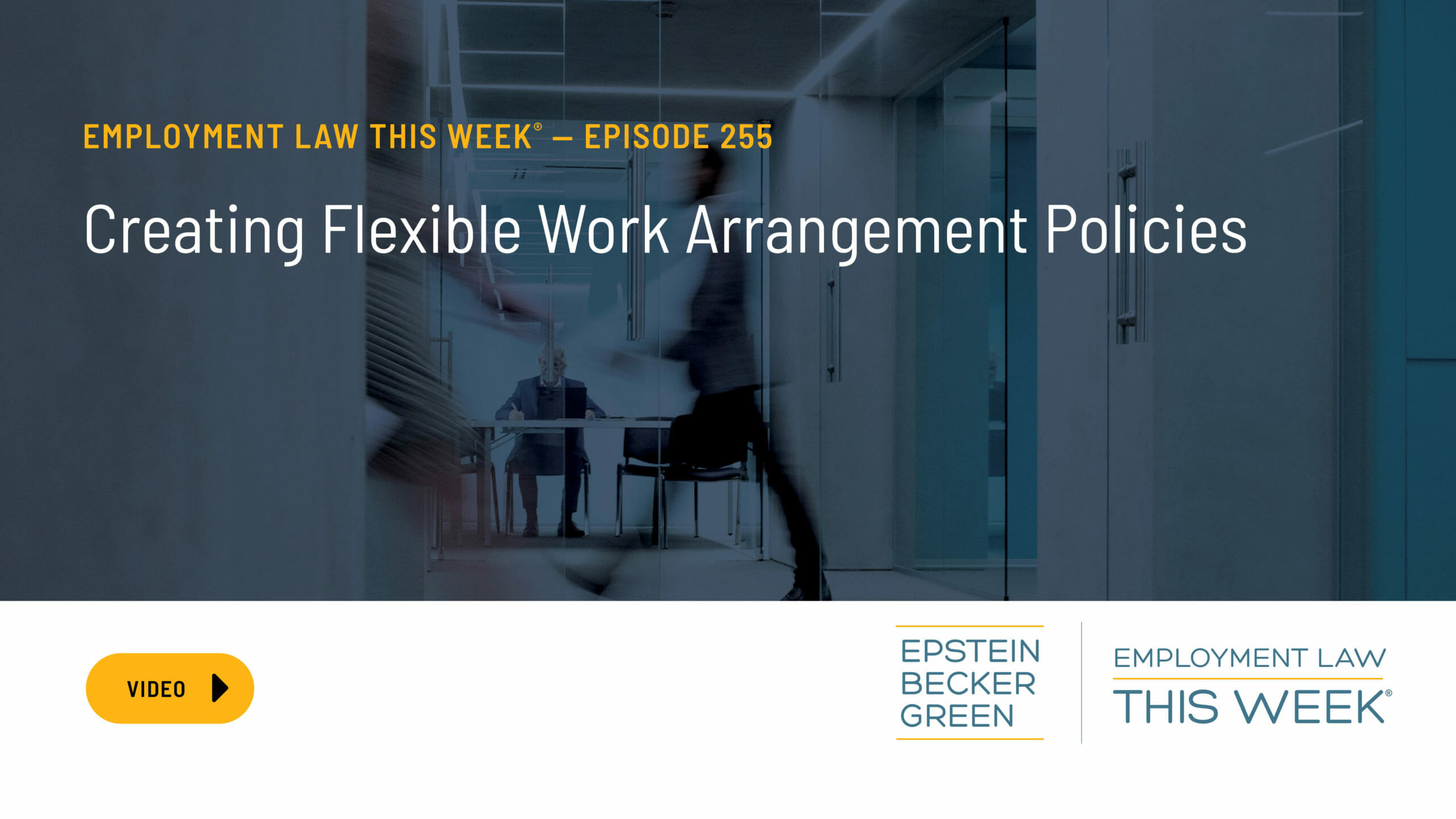 Video and Podcast: Flexible Workplace Policies, Rising State-Level Privacy Laws, AI and Disability Bias
This week, we look at best practices for developing flexible work arrangements policies. Demands to continue working remotely or with flexibility remain high as we emerge from the COVID-19 pandemic.
Development of policies on flexible working arrangements
With the reopening of offices, the number of employees requesting flexible or remote working arrangements remains high. How should employers react? Lawyers Greta Ravitsky and Eric Emanuelson discuss best practices in flexible work arrangements policies.
Video: YouTube, Vimeo.
Podcast: Apple Podcasts, Google Podcasts, Overcast, Spotify, Stitcher.
Comply with rising state privacy laws
Connecticut recently became the fifth state to pass comprehensive privacy legislation. This law follows Utah's adoption of the Utah Consumer Privacy Act, Colorado's adoption of the Colorado Privacy Act, and Virginia's adoption of the Virginia Consumer Data Protection Act. Additionally, California's new Privacy Rights Act will soon go into effect. This patchwork of state laws has complicated compliance for employers. Read more.
AI tools could lead to disability bias
US Equal Employment Opportunity Commission President Charlotte Burrows recently said she was particularly interested in advice that could protect people with disabilities from bias in hand management tools. -works that use artificial intelligence (AI). Lawyer Nathaniel Glasser speak with Bloomberg Law Daily Labor Report on the risks that AI tools could pose. Read more.
Other Highlights
COVID-19 WORKFORCE (re)sources
Click here to see what federal, state and local governments have been doing to address the COVID-19 pandemic this week.
U.S. Department of Labor Field Assistance Bulletin on "Protecting Workers from Retaliation"
Wage and Hour Defense Blog
Jeff Ruzal, Greg Keating, Anastasia Regne
Massachusetts appeals court denies whistleblower's implied discharge request
Workforce Bulletin
Greg Keating, Fran DeLuca
New Jersey's proposed non-competition law aims to provide a bit of everything
Trade Secrets and Employee Mobility
David Clark
(Re)imagined WORKFORCES.MT
Find out how we can help you with return to work or hybrid workforce issues.
On Labor law this week
Labor law this week® provides an overview of key developments in employment and labor law and workforce management in minutes every #WorkforceWednesday.
Prefer to listen?
You can listen Labor law this week episodes on your favorite platform – Apple Podcasts, Google Podcasts, Overcast, Spotify, Stitcher.
make known
Would your colleagues, professional network or friends benefit from #WorkforceWednesday? Please share the edit weekly on LinkedIn, Facebook, YouTube, Instagram and Twitterand your connections can subscribe to email notifications.
Trouble watching the video? Please contact [email protected] and mention if you were at home or working within a corporate network. We would also love your suggestions for topics and guests!
EMPLOYMENT ACT THIS WEEK® is a registered trademark of Epstein Becker & Green, PC