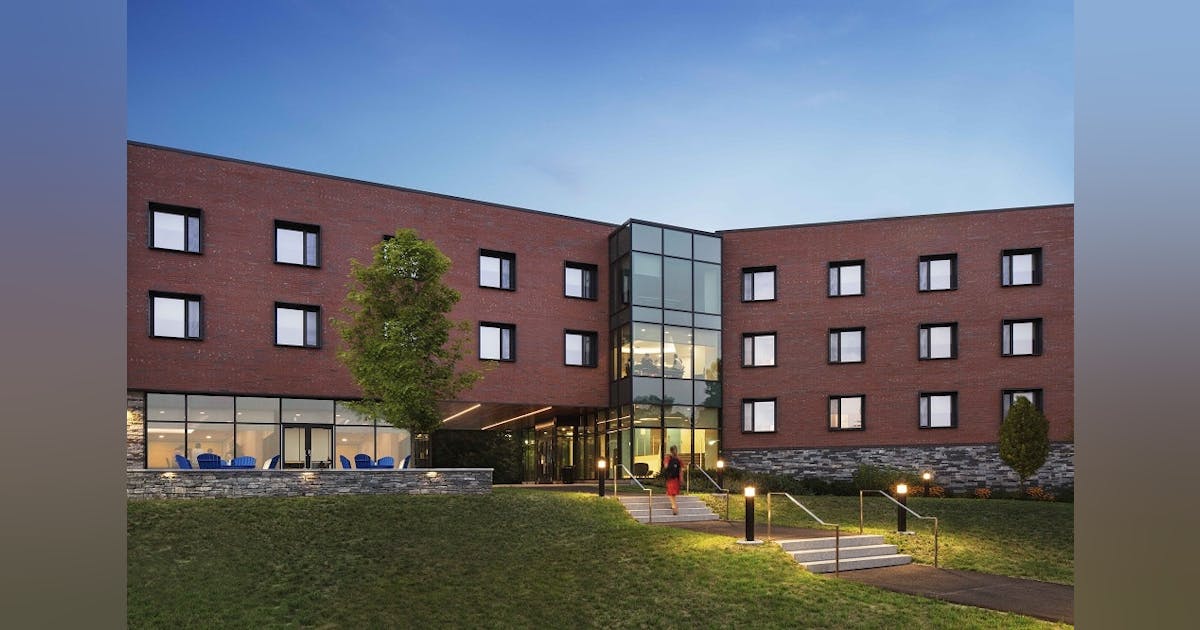 Passive house design paves the way for highly efficient buildings
[ad_1]
As architects and designers, we are always pushing the boundaries of today's innovation to build a more sustainable future. However, one of the most promising architectural solutions to combat climate change was developed decades ago.
A rising trend across the industry, passive house design – a standard first pioneered by Dr. Wolfgang Feist in the 1980s in Germany – lays the foundation for creating energy-efficient buildings thanks to five basic principles: thermal insulation; highly efficient windows; ventilation with heat recovery; air tightness; and design without thermal bridge. Today, the concept has become one of the most rigorous building standards in the world, providing a pathway to dramatically reduce greenhouse gas emissions and achieve net zero, or even net positive, on a scale much wider.
Unlike other well-regarded sustainable building approaches like LEED, Passive House is a performance-based standard that directly addresses the issue of energy consumption. It creates testable performance levels of the exterior walls of a structure, and therefore very quantifiable and verifiable energy levels.
Typically, when these principles are applied holistically, Passive Houses use 40-60% less energy than conventional buildings, resulting in significant cost reductions and in some scenarios can even reduce energy consumption. up to 90%. Although this is not easy to achieve, much emphasis throughout the planning and construction process is placed on the creation of the building envelope and the application of superinsulation and of an airtight construction.
[Related: How an Iconic Brutalist Building Became One of the Most Sustainable Hotels in the U.S.]
Beyond efficiency
Beyond its energy efficiency benefits, passive house projects also pay great attention to creating thermally comfortable spaces that maintain significantly better indoor air quality (IAQ). With recent studies revealing that indoor air can be even more polluted than outdoor air, it is becoming increasingly important to ensure healthy levels of IAQ throughout the planning process.
Additionally, Passive House projects prove to be more resilient during power outages and will significantly reduce operating costs due to their lower energy consumption. From a business perspective, these are huge benefits that call for wider implementation of passive house design in this sector.
Passive house design can be applied to any building typology. It is important to break the misconception that these principles are exclusive to residential projects. From skyscrapers to institutional buildings to smaller scale single family homes, there are no limits to passive house applications. As architects, we have tremendous opportunities to increase the prevalence of passive house strategies in commercial and institutional markets.
There is a higher initial cost with these projects, which on average ranges from 3-5%, but it is important to re-emphasize that operational costs throughout the life of the building will be much lower due to significantly reduced energy consumption of the building. use, making it a more cost effective option in the long run. And, as energy codes and environmental commitments become more stringent, commercial owners will benefit from developing more sustainable buildings in the near future.
For example, in New York, nearly 70% of total carbon emissions come from buildings. While city leaders recently announced a goal of reducing greenhouse gas emissions from buildings by 40% by 2030, the implementation of Passive House principles in new construction and renovations has been identified as a key way to achieve this. For this reason, projects built to Passive House standards, whether new buildings or renovations, will prove an increasingly valuable pursuit across all sectors, especially as heavy Carbon taxes and stringent environmental commitments are becoming more widespread at local, state and national levels.
Passive house for student housing
At SGA, we are constantly striving to create more sustainable buildings. Two of our recently completed passive house college projects at Wheaton College and Williams College were the first higher education residence halls to receive Passive House certification in Massachusetts. Both projects called for a contextual response specific to their campuses, presenting their own sets of goals and challenges.
Wheaton College, for example, is a 45,000 square foot passive house project with 178 beds for housing undergraduates. To achieve ambitious energy performance targets, we have implemented a number of key features, including:
High performance glazing
Thermal insulation
Design without thermal bridge
Air tightness
Ventilation with heat recovery
Low load HVAC
Sun blocker
Completed in 2020, Wheaton College Pine Hall has become the largest certified Passive House building in New England.
At Williams College, the client was looking for a classic New England aesthetic that could accommodate 40 students. Williams' structural system is wood with a peaked roof, so we incorporated the mechanical systems under the gable roof to hide it from the outside, allowing us to maintain the project-specific look and feel.
This 16,500 square foot residence has an aggressively targeted Energy Consumption Intensity (EUI) of 28, which we achieved by incorporating key elements such as phase change materials in the walls and ceilings to mitigate heat in hot weather, an electric radiant heat source and opening windows. We have also included other features such as:
An ERV system
Structurally insulated roof panels
High performance glazing
Air tightness
photovoltaic panels
Also completed in 2020, this project is expected to save 50-80% on operating energy costs.
At SGA, we are committed to spreading awareness, education and integrating passive house design wherever possible. As the trend for Passive House projects continues to grow, it is encouraging to see that customers are now coming to us with inquiries and even asking for it in tenders in some cases.
With energy consumption being a driving force behind climate change, the need to take an aggressive approach in implementing passive house design in all possible sectors is evident, especially as the residential and commercial sectors account for 40% of total energy consumption in the United States. The bottom line? Amid the intensifying climate crisis, Passive House buildings are needed more than ever.
About the Author:
David Enriquez is a Chartered Architect and Director of Design at SGA. He brings 20 years of experience in several different markets to his role at SGA, where he provides creative direction to business and higher education commissions.
Read next: Why buildings that fight carbon are needed in the fight against climate change
[ad_2]
Source link