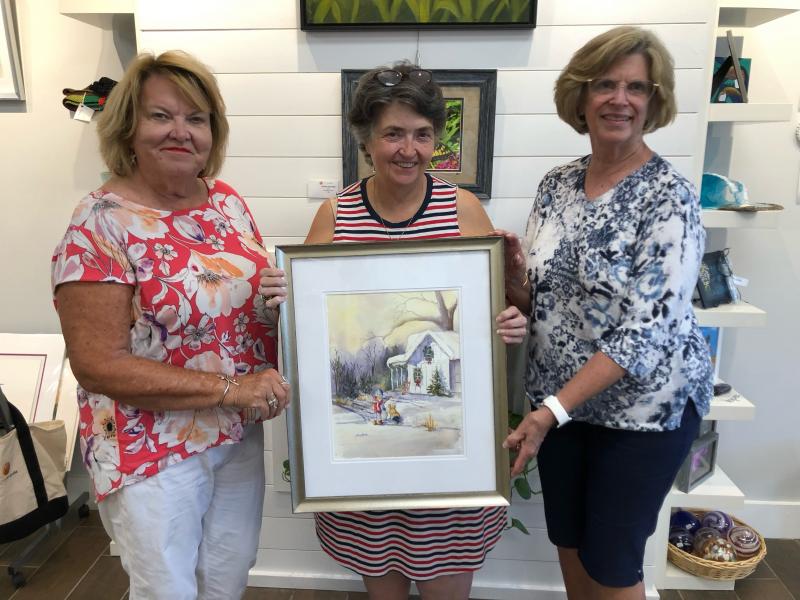 Anne Buck's art will grace the cover of the Milton Holiday House Tour book
The Women's Club of Milton has announced that it has selected Anne Buck's watercolour, 'Snow Day', for the cover of its Holiday House Tour 2022 book.
Linda King, President of Holiday House Tour, said: "We are honored to have Anne's lovely winter-themed watercolor painting featured on the cover of our tour book and other publicity this year."
An award-winning watercolourist who enjoys the luminosity and translucency of the medium, Buck is the Education Coordinator for the Milton Arts Guild. Design and creativity were infused into her training, with a bachelor's degree in ornamental horticulture and landscaping and a master's degree in teaching biology. During her professional career, she has used her design skills as a conservation specialist for erosion and sediment control, and as an office manager and draftsman for Jennifer Thompson Architects, and her creativity in as a science teacher for the Cape Henlopen School District. She studied watercolor with many nationally renowned artists such as Mary Whyte, Charles Reid, Janet Rogers and Vlad Yeliseyev.
Buck is a member of the International Watercolor Society, Delaware Watercolor Society, Rehoboth Art League and Delaware By Hand, and past president of the Milton Arts Guild. His work is exhibited in various art leagues and has been exhibited at the Biggs Museum of American Art in Delaware. Her work can be found periodically in shows across beach communities and online at annebuck.com.
The Women's Club of Milton will hold their long-awaited holiday home tour on Saturday 10th December. The tour will highlight the historic town of Milton and its architecture, with private homes and several public buildings, all beautifully decorated for the holiday season. The tour is a major fundraiser for the club's charitable and educational initiatives.
The Women's Club of Milton is a member of the General Federation of Women's Clubs, one of the oldest and largest women's service organizations in the world dedicated to the betterment of the community through voluntary service. Each club establishes its own program and works on projects and programs that meet the specific needs of its communities. To find out more, visit womensclubofmilton.org.